FAQ
Quick Links
Payment
How can I pay for my order?
We accept Visa, MasterCard, American Express, Discover, and Paypal payments.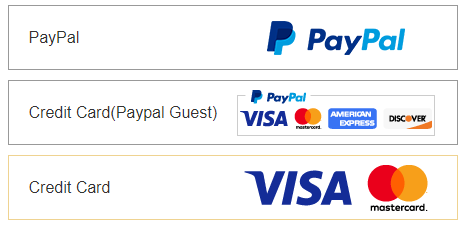 Is it safe to place an order on your site?
Absolutely yes. We care about your security and privacy very much. Our site is 100% secured by the best e-commerce service platform. And all transactions are processed and protected through Paypal as well.
Why was my payment declined? How to fix it?
When paying via credit card, your card issuer may decline your payment for some unknown reasons. To complete your order, you can change to another card to pay, or you can contact your bank for further information. Or you can change to PayPal to complete your payment.
There are some suggestions for the following Declined situations.
Declined (Card declined by issuer - contact card issuer to determine reason.)
1.The credit card issuing bank did not approve the transaction. This could be for insufficient funds, frozen account status, invalid credit card number or expiration date, etc. The card issuing bank does not usually provide additional details regarding the reason for the decline. You will need to contact them for further information.
2.The transaction may have been declined based on transaction limits established by your Merchant Service Provider (MSP). Your MSP sets both per-transaction and monthly transaction amount limits for your transaction processing. You can contact your MSP for help. A phone number to your MSP should be on your most recent funding statement.
Declined (Contact card issuer to complete transaction.)
A referral to a voice authorization center was received. Please call the appropriate voice authorization number below for the card type being used:
American Express: (800) 528-2121
Visa/MasterCard: (800) 228-1122
Discover/Novus: (800) 347-1111
Diners Club: (800) 525-9040
JCB: (800) 522-9345
For international merchants (UK and AU):
To get a voice authorization:
• Please contact your Merchant Service Provider (MSP)
• If your MSP is WorldPay, please call 0845 7 600 530
Once an authorization is issued, you can then submit the transaction through the Virtual Terminal as a Capture Only transaction. To do this, the full credit card number and expiration date are needed.
Declined (AVS Mismatch) or (Card Code Mismatch)
This means the transaction was declined due to the Address Verification Service (AVS) or Card Code Verification (CCV) results. AVS compares the billing address (numerical portions) provided in a transaction with the cardholder's address on file at the credit card issuing bank. CCV compares the card code (a three- or four-digit security code that is printed on the credit card) provided in a transaction with the card code on file at the credit card issuing bank. When enabled, both services return a code to the payment gateway indicating the verification results.
How long does it take to get the refund?
A refund will be credited to the original payment account used for the purchase.
If you pay with your PayPal balance, the money will be refunded to your PayPal balance within 3 business days.
Refunds to credit/debit cards usually take 10-14 days, however, it can take up to 30 days depending on the card bank involved.
If you can't find the refund on your account statement, please feel free to contact our customer service.
How to order glasses with insurance at Zinff?
Here's a quick checklist of what you need to do when using insurance to buy glasses online at Zinff
• Check with your insurance provider
Check with your insurance provider first in order to know what type of frames, lenses, and costs are covered by your health insurance plan.
• Get your prescription
When ordering glasses online, it's important to always use your most recent prescription for eyeglasses. If you need help figuring out your Rx, check out our guide on how to read your prescription.
• Order your glasses
Whether you're looking for prescription glasses for men or want to shop from the latest eyewear trends, Zinff has the right frames to fit your style. Once you've picked out your frame, enter your prescription and select your lenses. You can learn more about how to order your glasses online at Zinff here.
• Making your claim
After you've purchased your glasses, you will need to send a detailed receipt to your health insurance provider. We can provide you with a detailed copy of your invoice so you may request reimbursement from your insurance company. Check with your insurance company, and if they do, you can request an emailed invoice copy from our Customer Service department (Email: service@zinff.com)
• Enjoy your new glasses
The most important part of the process! Once your glasses arrive, try them on and make sure the frame and prescription. At Zinff, it's important us that you find your perfect pair. If you're not satisfied with your new glasses, that's okay. With our 30-day Fit & Style Guarantee is there to make sure that your glasses are the best glasses for you, so check it out.
How can I get an itemized receipt?
You can request it via email. Our customer service department will send you a copy of your receipt.
Can I use my Flex Spending Account (FSA) or Health Savings Account (HSA)?
Yes. We accept FSA or HSA for purchasing prescription eyeglasses or sunglasses.
1. What is FSA/HSA?
FSA (Flex Spending Account) and HSA (Health Savings Account) are pre-tax medical expense accounts offered by employers which can be used for eligible health care expenses, including prescription eyewear.
FSA is a "use it or lose it" program which runs January 1-December 31. The funds must be used by the end of the year or else you lose your money. Buying glasses at Zinff is a great way to use up lingering FSA money.
HSA funds roll over and accumulate year to year if they are not spent.Using your HSA for glasses is a great way to save money, since the funds are taken out of your paycheck before taxes.
2.What Type of Glasses Can I Buy with HSA and FSA?
Any eyewear product that corrects your vision is classified as a medical product and is thus available for purchase with an FSA or HSA account.You can't use your flexible spending account or health savings account to buy eyewear with no prescription.Routine eye examinations or more serious eye surgeries can also be covered by your FSA or HSA, but your insurance premiums can't be covered.
2.1 Eligible for Purchase with FSA and HSA
✅ Prescription eyeglasses
✅ Prescription sunglasses
✅ Contact lenses
✅ Eye examinations and eye surgery
✅ Reading glasses (both prescribed by an optometrist and not).
✅ Eyeglass repair kit
2.2 Not Eligible for Purchase with FSA and HSA
❌ Non-prescription eyeglasses
❌ Non-prescription sunglasses
❌ Insurance premiums
❌ Non-prescription colored contact lenses
3. How to order with FSA/HSA?
If you have an FSA/HSA card, you can use it at checkout as you use a credit card. If you don't have an FSA/HSA card, simply make your purchase as you normally would, and submit your receipt to your FSA/HSA plan for reimbursement.
4.How to submit FSA claims?
What if you do not have a card? You can submit these expenses at any time within the term of your FSA coverage or grace period. And, you can do so right on your FSA provider's website.
1) If you do not know how to access your FSA website, check with your employer or third-party FSA provider. If this is your first-time logging into an FSA website, you may need to set up an account.
2) Once you've accessed your FSA site, look for the option to submit a claim. From there, follow the steps outlined on the FSA claim page. These will vary according to your provider.
3) Typically, you will be asked to upload a digital copy of your receipt and answer a series of questions. For example, you'll likely be asked to fill out some personal information along with the service or product type, your date of service or purchase, your provider's name, and the cost not reimbursed by your health insurance provider.
4) Once completed, your provider will evaluate your claim and send you a reimbursement check toward all qualifying purchases.
How do I use a promo code?
Most of our coupon codes need to be applied manually at checkout. Enter the coupon code you have in the 'Promotion Code' box and click the 'Redeem' button to apply for it. Please read the terms of use of the coupon and promos carefully before you use them.
If your coupon code doesn't work, please contact our support team for help.
Can I use more than one promo code at a time?
Sorry, but it is limited to only one coupon per order. Also, it is limited to on-sale glasses and other ongoing promotions.
How can you charge such low prices? Is your stuff good enough?
Zinff offers hundreds of stylish frames and high-quality lenses to our customers. To provide you with a better and affordable online shopping experience, we cut out the middleman cost in all stages and pass the savings on to our customers.
Can I change the prices listed in other currencies?
Yes, you can find the change button on the right corner of the web page. Currency is listed as US dollars in default.
Do I have to pay local taxes?
It depends on your country or region. We advise checking your country's specific tax and customs laws beforehand.