FAQ
Quick Links
Order Your Glasses Online
Purchasing glasses online at Zinff.com is very easy and hassle-free. Our ordering process is easy to understand, and you need to stick with it step by step.
1.Get Your Eyeglasses Prescription Ready If You Need One
Get your eyeglasses prescription from your eye care provider after an eye examination.
2.Choose Your Frames on the Site
At Zinff, we offer you hundreds of chic frames to choose from. To pick out the perfect fit, you need to consider these.
Frame Shape: whether what frame style it is, choose something to compliment your style and features.
*Click here to know what frames suit your face shape.
Frame Size: Accurate frame size can get your new glasses a better fit. If you have an old, comfortable pair, you can take the measurements for reference.
*Click here to know how to pick out frame size.
Frame Color: It depends on your taste. Most frames at Zinff have different color choices, so you are never 'stuck' with just one option.
*Click here to find out how to be chic with eyeglasses.
3.Add a Prescription to Your Glasses If You Need One
Once you have selected the frames you like on our site, the next step is to add your prescription to your new glasses.
*Click here to know more about the prescription.
4.Choose Your Lenses
When buying prescription glasses, you should know what your new glasses are used for. And choose the lens for your glasses compatible with your prescription.
*Click here to know more about how to choose lenses due to prescription.
GLASSES USAGE
There are three general glasses usages in the ordering process, distance, reading, and multifocal.
DISTANCE is for nearsightedness and farsightedness. If you are nearsighted or farsighted, choose DISTANCE as your glasses usage and enter what your prescription says.
READING is for people (usually above 40 years old) who have presbyopia. There are two options in the READING section, READERS, and INTERMEDIATE. READERS are used for seeing up close between 11 and 16 inches (27-40 cm), like reading books. INTERMEDIATE is for seeing something at 20 inches (50 cm), like using the laptop. Eye care providers usually suggest choosing blue light blocking lenses for this glasses usage to protect your eyes.
*Click here to know more about Zinff blue-light blocking glasses.
*Click here to know what nearsightedness, farsightedness, and presbyopia are.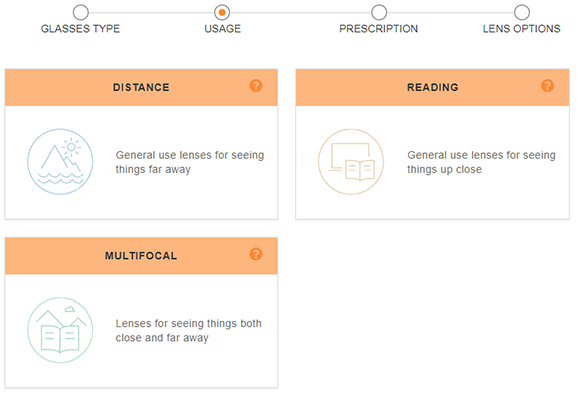 5.Checkout Your Order
Once you select everything you need and double-check it, you can input your shipping information and approach the payment. You will get your order number once you complete your payment, or you can go to your Zinff account to check order details. (We accept Visa, MasterCard, American Express, Discover, and Paypal payments.)
We will take care of everything from now on and keep you posted on the order updates via email. So don't forget to check your email.
*Click here to check the delivery time.